Stamped Concrete San Antonio
Concrete stamping is in no way a novel idea. Since its introduction in the early 1970s, constructors have incorporated stamping in almost all concrete works of modern times. Its applications are evident in highways, home flooring, driveways, pathways, patios and decks. In sophisticated regions such as San Antonio, finding stamped concrete should not be a daunting task. Nonetheless, you will still need the craftsmanship of an experienced concrete contractor to produce final results that fulfill your desires. At SATX, we strive to become the ultimate company setting standards for best stamped concrete San Antonio has to offer.
Concrete stamping techniques
We use various high tech methods to produce top quality stamped concrete San Antonio residents have access to. Our techniques include:
Accumulating Accent Color
This involves using secondary colors to bring out the best in terms of texture and aesthetic appeal. Color accumulation also exposes other construction materials and prevents the stamps from sticking to the concrete.
Accumulation of Base Color
When natural building materials need a bit of highlighting to be properly reflected, we use the primary color for stamping. You can choose powdered pigments to produce a hardened surface to the stamp or go for cast-on colors where the whole concrete is dyed.
Pattern Stamping
This involves implanting concrete using another concrete shortly after it has been made. Stamps are made using polyurethane and additional styling can be done using various metals. This allows us to mimic different looks including brick, natural stone and flagstone among others.
Concrete stamping can be done with various colors including walnut, venetian pink, dark red, Arizona tan and platinum grey among others. Patterns also range from English Yorkstone to fractured slate, cobblestone, river stone, limestone and sandstone among others. One great thing about concrete stamping is its broad application. From patios to pool decks and driveways, concrete stamping can be used to make your surfaces unique and different from any other in your neighborhood. Contact us for all your questions regarding stamped concrete options in San Antonio.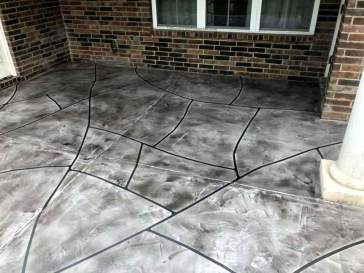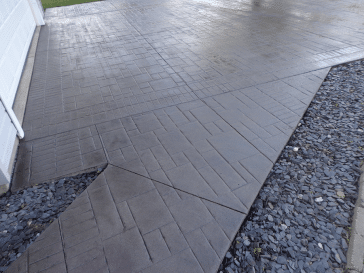 Design Tips for Stamped Concrete
The idea behind concrete stamping is always to create surfaces that can complement your structure and provide smooth transition through indoor/outdoor spaces. Here are a few design tips to keep in mind when looking to install stamped concrete;
Scheme through stamped concrete in your neighborhood to get ideas that will enrich your
personal style and preference. You can also approach our team of professionals for ideas and imagination based on the bigger picture and final result you intend to create.

Choose stamped concrete that matches your roofs, interior design and walls. This is particularly ideal if you have a brick patterned house.

Visit showrooms and exhibitions organized by concrete contractors to get new ideas and
decorative patterns you can install in your home or commercial outlet.

Choose designs and patterns that accentuate and complement your structure. This increases longevity and also reduces the maintenance work required.
Cost of Stamped Concrete
At SATX, we intend to increase your property's value by installing high quality decorative stamped concrete. You do not need to break the bank to achieve this feat. Concrete stamping costs from as low as $7 per square foot. However, you may pay up to $20 or more depending on the complexity of project and amount of materials and labor required.
Contact Us for a FREE Estimate