My side walk sank in due to foundation issues. Even if it was a small job they came out and did a great job at a resonable price. There was a small scheduling issue why i only gave 4/5 but the rest of the work I highly recommend. Will recommend in the future.
Excellent service from start to finish . Fabian and his guys did a great job . Definitely will recommend to friends and family. Thank you for the honest and professional work will give you a call on the next project.
SATX did a great job at demoing my driveway as well as replacing it with a new slab.
Contractor never showed up to provide an estimate.
San Antonio's Top Rated Concrete Company
Are you looking for reliable concrete companies in San Antonio? Many different factors - including team experience, reputation, quality guarantees, and exceptional customization - go into choosing a reliable concrete contractor for residential and commercial concrete construction.
Here at SATX Concrete, our goal is to work directly with customers at every step to ensure we meet and surpass their expectations. We take pride in being the finest concrete company in San Antonio has to offer. We believe our high-quality services and attention to detail have played a key role in our effort to reach this status. We also value all our existing customers and potential clients - that's why we provide them with free, customized estimates developed by our team of concrete professionals.
Why choose a local concrete contractor for your next project?
As a San Antonio concrete contractor, SATX Concrete is accessible and quick to respond. Our local presence enables efficient estimates and job inspections with expert teams. We have an established reputation in the area with knowledge of regional climate, codes and design needs.
We use high-grade steel ties and fiber to reinforce concrete on all our projects. We ensure you're investing in your property with high-quality, long-lasting results.   
Our company builds relationships by satisfying client needs and applying a high level of professionalism to every aspect of the projects we handle. SATX Concrete's work comes with a 100-percent satisfaction guarantee. If you're not pleased with our workmanship, we're always ready to make the adjustments you need.

Affordability is a rare bonus in the construction world, but you can still achieve it. We aim to provide great value for your money, and that includes offering the most competitive, affordable pricing on the market.

Our expert services can increase the overall value of your home or property. The final result of this work is attractive, durable, and functional concrete that will increase your property value significantly.
Residential Concrete Services
Commercial and residential concrete services are similar in some ways, but they're far from identical. Residential concrete solutions may include decorative customization work like stamping and staining to personalize the look and feel of your concrete. We have provided custom concrete services to San Antonio residents for years, providing the personal touch that every client deserves.
Foundations or Concrete Slabs
We will be delighted to install your concrete foundations. Whether you need concrete slabs or to pour a new pad for a home addition, our team of experts knows how to help you achieve your vision with ease.
You can trust SATX Concrete to help you install new driveways and approaches to your home and garage or replace an old driveway. We provide old concrete demolition, concrete driveway excavation, and concrete driveway repair, along with new concrete installation. Finally, we will leave your space tidy and free of any construction remains.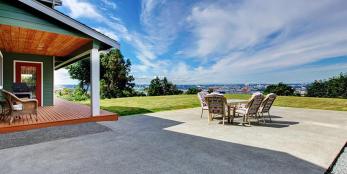 Our team of expert patio contractors has all the experience and expertise needed to enliven your outdoor spaces. We will install trendy concrete patios, which can be stamped or patterned to suit your unique needs.
Are you looking to upgrade your pool decking or install a new pool? We have the capacity and skills needed to ensure your pool deck is unique and attractive by installing intuitive concrete decking.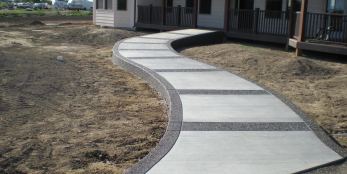 Just like driveways, sidewalks and pathways can feature unique elements of personalization. At SATX Concrete, we work with clients to install sidewalks with modern edges and curves. We can also suggest decorative elements to help accentuate your existing exterior design or provide sidewalk repair for your existing walkways.
Decorative concrete combines visual attractiveness with the durability concrete is known for, all at a low price. Stamped and stained concrete patios or floors can increase the aesthetic appeal of your space while repurposing your native slab.
Commercial Concrete Services
As licensed and bonded commercial concrete contractors, we can take on your project's flatwork with quality results at an affordable price. Do you need a dependable team for sidewalks, foundations, or paving concrete parking lots or roads? We're a trusted concrete construction company with years of experience.
We install sturdy warehouse concrete foundations to improve space management. Our concrete floors and surfaces are also highly durable, allowing them to resist daily wear and tear and avoid damage from stains and moisture.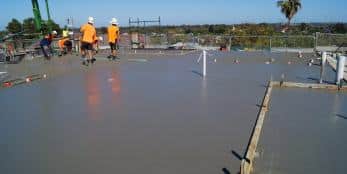 From commercial foundations or pads to pouring and paving parking lots and walkways, our professional team is dependable and affordable. Give us a try on your next project and you'll just wish you had used us sooner.
Our commercial clients need durable storage spaces that can withstand daily foot, equipment, and material traffic. We can easily install, repair, or upgrade your storage building concrete surfaces to perfectly suit your operations.
You can call SATX Concrete to pave a durable, affordable parking lot for your company. We aim to help you improve space efficiency and traffic flow to your business.
Concrete Paving and Roads
With multiple trucks and experienced team members, we can take on anything from 500 sq ft drives to 50,000 sq ft parking lots and beyond.
Besides being durable and resistant to the elements, park concrete surfaces often feature aesthetic engraving, intricate patterns, and stamping. Our team of concrete experts will work closely with you to make your vision for park space a reality.
Concrete curbing can give your exterior the finishing touch it needs. With our commercial concrete curbing services, you'll be able to enhance your business' landscaping and even boost your property value.
If you're establishing a new commercial building, you'll need accessibility ramps. Without these ramps, your facility could violate the Americans with Disabilities Act. Let us install high-quality ramps that are in total compliance with these regulations!
Excavation and Replacement
We have the equipment and teams to excavate and replace your existing concrete to look brand new. Sidewalks, driveways, and even foundations will be removed and re-poured to perfection.  
Frequently Asked Questions
Though it's not rare to see the terms "concrete" and "cement" used interchangeably, that's not entirely accurate. Cement is an ingredient in concrete. A concrete mixture will also include water and aggregate materials, such as gravel or sand.
Contact Us for a FREE Estimate