Driveway Contractor San Antonio, TX
As the entrance to your home, driveways need the same special treatment given to patios and backyard decks. There are various options you can choose to install, yet none beats a solid concrete driveway. From durability to design versatility and elegance, today's concrete surfaces present the best opportunity to highlight your driveway and welcome people home. However, you will need a reliable Driveway Contractor in San Antonio that can guarantee high-quality result. At SATX Concrete, we specialize in the installation and repair of various concrete surfaces including concrete driveways, pathways, walkways and entrances. Whether you need a uniquely stamped driveway or a standard concrete look, our team of concrete experts will work with you at every step to meet your goals.
Standard Concrete Driveways
If you are going for the industry standard concrete driveway, we have your back. Our team will install high-quality concrete that blends into the environment and complements your home. Standard does not imply your driveway will resemble any other concrete surface in your neighborhood. There's incredible room for customization to ensure you install unique driveways that are inseparable from your home exterior décor.
Stamped Concrete Driveways
From cobblestone and fractured earth to brick, Ashlar slate, natural stone, river stone, sandstone and limestone, we have a wide variety of stamped concrete options for your driveway. We accent stamped driveways with concrete staining which complements your home and property. Our talented team can create anything from cobblestone to realistic looking wooden planks. Our goal is to install a concrete driveway that fulfills your desires.
Engraved Concrete Driveways
Are you looking to install engraved concrete driveway that adds a personal touch and highlights your creativity? At SATX Concrete, we offer affordable concrete engraving services that will take the shortest time possible to transform your driveway. We can apply stains and sealers to leave your driveway new and ready for use. You can determine the kind of engraving you need and our team will begin working on it as soon as we have the green light.
Stained Concrete Driveway
You can take advantage of acid staining to install a magnificent concrete driveway that will be the envy of everyone visiting your home. We have several colors and tones that will forever mask any boring grey surface on your entrances. Whether you need a variegated, mottled or grooved pattern driveway, our team will help you achieve the best result. Other stained concrete options include exposed aggregate, rock salt finishes, uneven color effects, and pavers.
SATX Concrete is open 9am-6pm, Monday-Friday and accessible to anyone in San Antonio. You can call us for any questions on how you can install a concrete driveway that meets your specific needs. We also offer various concrete services including patios, decks, pathways, flooring and foundations among others.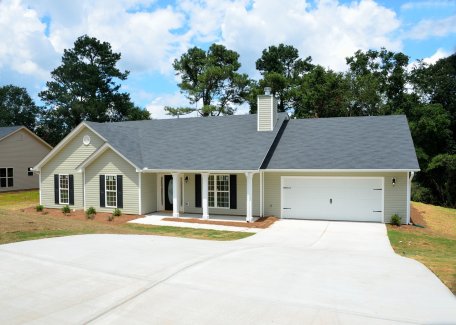 Low Maintenance

Concrete driveways can last several years without requiring any major maintenance. All you need to do is sweep your driveway. What's more, concrete prevents dirt, debris and dust from accumulating in your outdoor spaces. It also resists mold and algae. This makes concrete driveways the ideal solution for your home. It is safe, attractive and easy to maintain.

Durable and Long Lasting

Concrete is among the most durable solid surfaces you can install anywhere. As aforementioned concrete driveway can last several years (up to 30 years) with minimal maintenance. It withstands foot and auto traffic, all kinds of weather and extreme pressure better than any other driveway surface. You can always go for cement concrete if you have heavy vehicles moving through your driveway.

Options to Choose From

Modern concrete contractors can provide a wide range of options to meet diverse needs. At SATX Concrete we can help you install unique driveways that is the talk of your neighborhood. Some of the options available include colored concrete, patterned, stamped, decorative and stained concrete among others. Even better, we can help you mimic the resemblance of slate, bricks or cobblestone to enliven your home's entrance.

Attractive Investment

With professionals handling the project, your concrete driveway does not have to be the dull grayish surface that comes to mind. Thanks to modern advancements, you can achieve great looks that add elegance and diversity to your driveways. There are several colors, patterns, engravings and textures to give you total freedom for customization. Concrete can also be decorated with stains and dyes to create a look that compliments your outdoor space.
Contact Us for a FREE Estimate