Concrete Foundations Slabs San Antonio
Concrete foundations are essential to support walls and floors. High quality foundations require professional installation for sturdiness. We specialize in installing the best concrete foundations for your structure. Main foundation types include slab, crawl space, and basement foundations.
Slab Foundation
A concrete slab is among the commonly used foundations for light buildings. They are both economical and easy to install compared to other types. Concrete slab foundations come in three variants including those for cold areas, wet areas, and desert areas. Since they do not need major excavation, only the top layer of soil is removed and slabs are staked out using batter boards
Poured Wall Foundation
Poured wall foundations are seamless concrete foundations installed by pouring a mixture of cement and other construction materials. Having no joints, poured wall foundations are more durable and resistant to most agents that damage block and slab foundations. Its benefits range from design flexibility to water resistance, fire resistance, and easy maintenance. Vertical steel bar reinforcements are usually placed before the pour is made. Horizontal steel bars are also placed at the bottom and top of the poured foundation to increase stability.
Pier and Beam Foundation
Beam or pier foundations are installed to support individual pillars. They are separate
footers that support vertical piers and are installed using a crawl space design with anchor plates and bolts already in place. Pier foundations also go deep into the ground to withstand the freeze and thaw upheaval.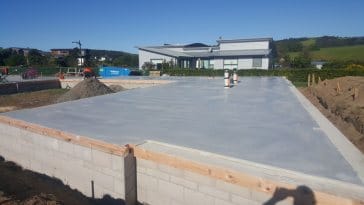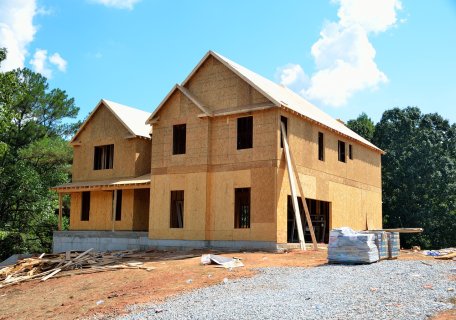 BENFITS OF CONCRETE FOUNDATIONS
Since concrete is among the hardest surfaces available for construction, its benefits are quite straightforward. When used for foundations, the key benefits of concrete include:
Durability

We install high-quality concrete foundations that will ensure your structure remains in position for many years to come. Concrete is what holds the structure together preventing crumbling even during perennial shifting. Concrete foundations can last a lifetime without any damages and need no maintenance when finished. They are not only durable, but also offer incomparable strength to the building.

Environmentally Friendly

Our concrete foundations are eco-friendly and cause no harm to the environment. We ensure all materials used are standard and nature-friendly for sustainability

Concrete Floors are Modern & Attractive

Concrete foundations provide the ideal base for installing unique floors that complement room décor. You can install any kind of floor on a concrete foundation which propels customization to another level.
Foundation Construction Process
At SATX, we have a streamlined concrete foundation installation process that makes the task easier and outcome better. However, each project is different and customized based on what the client needs. The steps involved include:
Ground Breaking and Excavation

This step involves grading the entire lot and removing the top layer of soil. We also test the ground for compactness to determine if it can withstand the structure to be built. Once this is done, we set up batter boards that will be used to level the foundation and
structure.

Footing and Rebar

Step two is all about digging footings and installing the rebar using high-quality safety caps. We also pump and pour the concrete footing.

Polysteel Installation

Once the footing is poured, we form and install Polysteel blocks where the stem walls will be poured. This is immediately followed by pouring the stem and doing thorough rough in plumbing. Waterproofing is also done at this stage.

Plumbing Popes & Concrete Pouring

When Polysteel installation is finished, we use radiant heat and run the underground plumbing pipes in their strategic position. We also install the weeping tile (drainage pipe) and a radon shield usually a black plastic. The last step is pumping in ready concrete.

Clean Up and Block Wall Installation

Once the slabs have been installed correctly, we clean up the site, construct the block wall in position and set up the site in readiness for the framing experts.
Foundation installation processes vary by type. We expertly guide you through each stage of construction. Reliable contractors like us guarantee high-quality foundations. We construct resilient foundations to shape structures for years ahead.
Contact Us for a FREE Estimate