Concrete Sidewalks & Walkways San Antonio, TX
Concrete pathways and walkways are popular additions that can make your home complete and welcoming. They can be installed in your backyard and/or front yard and come in various designs to accommodate different preferences. Besides adding decoration opportunities, pathways offer direction and can guide visitors from the sidewalk to your doorbell. When looking to install concrete walkways and pathways, it is important to find experienced contractors who can produce what you envision. As a reliable concrete contractor, our aim is to install the best quality concrete pathways and walkways in San Antonio.
Welcoming

The advantages of installing pathways and walkways are quite obvious. Concrete pathways are both easy to build and maintain. When finished, they add aesthetic appeal to your home making it more welcoming as visitors can follow pathways straight to your front door. Homes that feature gaping green lawns without pathways look incomplete and separate from the neighborhood.

Attractive

Concrete walkways also increase opportunity for exterior decoration. Besides making your home part of the community by linking the sidewalk to your front door, pathways can incorporate decorative flowers, lanterns and twinkly lights on the edges. Even without these decorations, a simple pathway will always look beautiful and welcoming.

Decorative

Another benefit of concrete pathways and walkways is the level of customization available. There are several concrete paths you can build ranging from blocks to paving stones and poured concrete among others. You can also incorporate different colors and engraving, lamination and decorative borders to make your pathways unique.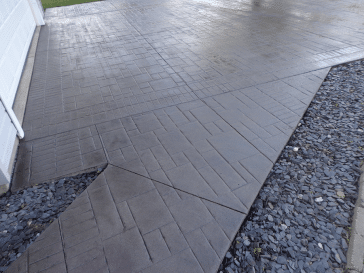 How much does it cost?
The cost of installing concrete pathways and walkways depends on a number of factors, mainly the type of concrete used, size of the job and how much specialty/design you want. Other actors that may affect the overall cost include pathway shape, volume of concrete needed and complexity of the task.
Most prices range between $5 and $100 per square foot so your investment could be anything from $1000 to $50,000 or even more. To make your selection easy, we offer different packages ranging from basic exposed concrete pathways to high end hand-picked accents and engravings.
Why choose us?
As aforementioned, it is advisable to work with reputable professionals known to install high quality concrete pathways and walkways in your area. Our team strives to provide top
quality services and interactions to turn your dreams into reality. We can install and repair stamped concrete pathways, colored concrete pathways and pathway/walkway pavers.
We use a variety of colors including walnut, slate grey, veteran pink, Arizona tan and dark red among others. Our concrete paths will resemble your surrounding providing a natural look that blends in with your lawn and neighborhood at large.
You can also choose from different patterns ranging from cobblestone to sandstone, limestone, river stone, ashlars and fractured earth. What's more, we offer concrete resurfacing to maintain the look of your existing pathways and rejuvenate their original aesthetics.
We Are the Team to Call
When you need to install a new pathway, resurface an existing one, hide stains or create exceptional finish and laminates in San Antonio. We also provide other services including concrete driveways and patios, epoxy flooring, concrete foundations, repair and resurfacing.
Contact Us for a FREE Estimate